The KoMaGa Trio
  Motoshi Kosako: harp 
  Michael Manring: fretless electric bass 
  Chris Garcia: tabla, percussion 
These three virtuoso instrumentalists team up to play unique original jazz/ethnic cross over music  with full of improvisation. This is absolutely the one and only ensemble, that brings you 
musical experience you have never had before.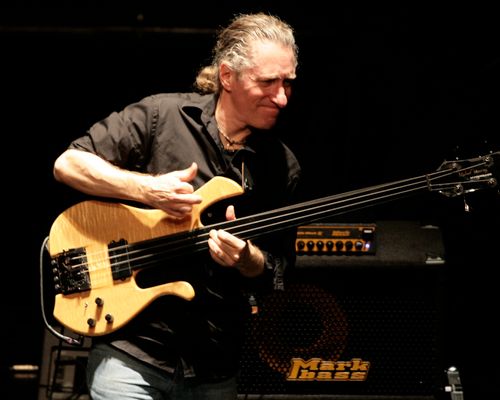 Michael Manring
fretless bass
Hailed by many as the world's leading solo bassist, Michael Manring has been pushing back the boundaries of what's possible on the bass guitar for over three decades. While his technical skill and innovations always make an impression, it is his ability to communicate on a profound emotional level that most touches listeners.
Building on the conceptions of his teacher, the late bass legend Jaco Pastorius, Michael has developed a new approach to the instrument that includes unorthodox tunings, techniques and methodologies. He has honed his skills on hundreds of recordings as a session musician and thousands of concerts throughout the world in venues including Carnegie Hall in NY, Yamaha Hall in Tokyo and Davies Symphony Hall in San Francisco. Michael has worked with a surprisingly diverse collection of musicians from New Age keyboardist Suzanne Ciani to avant-improv guitar innovator Henry Kaiser to celebrated folk troubadour John Gorka to experimental post-metal rockers Tim Alexander (Primus) and Alex Skolnick (Testament) to electro-pop pioneer Thomas Dolby. His long-term collaboration and close friendship with the late acoustic guitar genius Michael Hedges led to a lengthy stint as house bassist for Windham Hill Records; a label for whom he also worked as a solo artist, releasing four recordings under his own name: Unusual Weather (1986), Toward the Center of the Night (1989), Drastic Measures (1991) and Thonk (1994).
He has garnered two gold records, Grammy and Bammie nominations, a Berklee School of Music Distinguished Alumni Award, two Just Plain Folks Awards and numerous Bass Player Magazine Reader's Poll awards including 1994 Bassist of the Year. He was also the subject of a PBS TV documentary, "The Artist's Profile: Michael Manring" and a Youtube video of him playing his iconic solo piece "Selene" has well over a million views.
In his solo concerts Michael weaves together his musical influences into a tapestry rich with expression, virtuosity, humor and meaning. We hope you'll follow the advice of France's Musicien magazine: "Do not miss your next opportunity to discover the bassist with the most fresh and inventive playing today."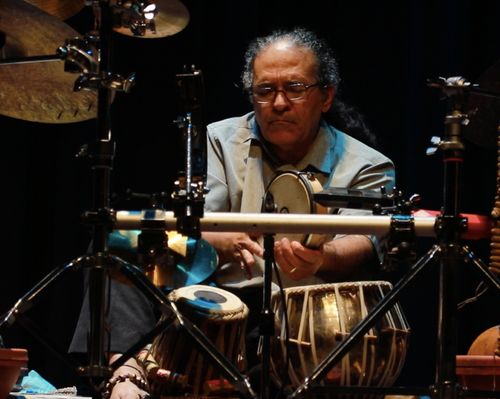 Christopher Garcia
Tabla, Percussion
A native of (EAST)Los Angeles, Christopher is a critically acclaimed performer, improviser, composer, and educator who has made a career with over 1200 performances in 28 countries on 5 continents, either on Western drumset, percussion of North and South India, percussion of indigenous Mexico, Meso America or his own unique percussion configuration called EL MONSTRO which contains instruments from all of the above all within arms reach.
His fascination with rhythm and the color of sound allows him the opportunity to be a group member and frequent collaborator/composer with various critically acclaimed classical, jazz, rock, and world music ensembles with whom he continues to concertize with in the US and abroad.
His website on indigenous instruments of Mexico and various YouTube demonstrations of the instruments in solo and ensemble settings continues to be acknowledged as an excellent educational overview to these instruments, their histories and performance practices with an average of 3,000 visits per month.
As a composer he continues to garner critical and popular acclaim and commissions for indigenous instruments of Mexico/Mesoamerica and India and classical guitar, marimba, piano, string quartet, western harp and woodwind quintet.